Also parents, if you chose a gift off the Angel Tree, gifts are due December 13th. Thank you for your support!
December House Challenge:
House Holiday Cookie Challenge
In the holiday tradition of making and sharing cookies with friends, we would like to invite you to make cookies that represent your House.
You may use any medium you choose (paper, cardboard, clay, string, dough, …) to create your cookies – they can be 2-D or 3-D…be creative!
You will have the next three weeks to create your cookies; we will have areas set up in the Learning Commons for the projects to be on display. All entries are due by Friday, December 20th.
Hello!
Happy Holidays to all!
December 16th will be a big day for our third graders.  Market Day will take place from 10:00-11:00.  Please send all items in that morning.  We also will be having our winter party on December 16 from 12:00-1:00.  Children can be signed out without being counted as an absence after the celebration.
If you are willing to volunteer or help with snacks, please see the sign up genius link.  Let me know if you have any issues, and I will be happy to help.  Additionally, our room parents will be in contact with more information about the celebration.  Thank you for all you do!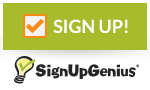 Click this link to login to TypingClub.com