Hi!
Thanks for checking to see what's happening!!
We have survived the second week of school!  Barely!  I say this because getting back into routines are hard especially with the warm weather. I have started cracking down on behavior and Dojo is in full effect this week! There are just a few students that are new to Bells Ferry this year and it usually takes about 3 weeks for everyone to get on the same page with procedures and routines.  In case you were wondering, right now, they get three chances to correct their behavior before they have to lose Dojo points. That will decrease as the year goes on.  If you have not yet accepted the Class Dojo invitation that was sent early last week, please do so.  If you did not receive the invitation, please email me so I can resend it to you.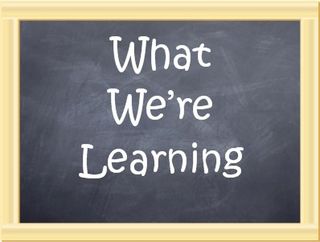 This week curriculum wise, we are diving into reading procedures and setting up our Readers' Response notebooks.  In Math, we are starting Place Value while continuing to work on our math facts!  (85% of the class is having an issue with subtraction with regrouping).  There will be nightly homework that targets this skill specifically this week!  In Social Studies, we are working on how to read a map and cardinal directions.  In Grammar, your children should be reviewing their vocabulary words and definitions from last week, as the test is Friday and will be going in the grade book.  We are setting up our writing notebook and determining what we can write about.  
Every month, your children will be learning about a new life skill.  This month's skill is Responsibility: Take obligations seriously.  Be accountable for your own actions and attitudes. You can count on me to do my job the right way! When I mess up I don't make excuses. I do what I can to make it right!
 is early again this year!  It is this Tuesday!  Everyone will get their pictures taken for the yearbook.  There was a green picture form that was sent home last Thursday.  If you are purchasing pictures, please return the envelope by Monday.  We are getting our picture taken before specials.  
is Tuesday night from 6-8.  Looking forward to seeing you then! 
I send home order forms on a monthly basis.  If you are interested, please visit the scholastic website and be sure to put the code that is on the inside cover of their agenda.  Ordering is not a requirement, however there's a better chance that their reading and comprehension skills will improve if they are reading books that they are interest in.  Once an online order is placed, I will get an email.  I submit the class order on the last school day of the month and the books are delivered to the class about a week later.  This month's book order is due by August 30th
Reminders: 
Please have your photo ID with you when you come to the building, you will NOT be able to get in without it.
Please remember to initial their agenda nightly.  This helps me know that you are aware of their behavior and any issues.
Any money that is sent MUST be in an envelope that is clearly marked.  If you need ASP (brown) or payment (white) envelopes, please send me an email and I will make sure they get to you.
Any transportation changes must be made in person Transportation changes can not be done after 1:45.

If you have questions or concerns, please don't hesitate to contact me.  The last email check is at 5 p.m.

P.E. days are sometimes on Friday, so please make sure your children have tennis shoes on.
Phew!  I know that's a lot!  Enjoy the rest of your weekend! See you Tuesday 🙂