SCRATCH
Aimed at students aged 8-16 years old, Scratch is one of the best ways to take the first leap into programming. Developed by the MIT Media Lab, Scratch is a visual programming language. It allows students to build interactive stories, animations, games, music, and art. This visual approach to programming is the perfect way to teach students the fundamental concepts behind programming and software development. Scratch is free to download and runs on Mac iOS, Windows and Linux.  ScratchJr is recommended for the young programmer starting out.
ALICE
Alice is a 3D programming environment that allows students create animations, interactive games, or videos to share on the web. The application will help students understand key principles such as object orientated programming and 3D modelling. Programs are created by drag and dropping graphic tiles. Each instruction corresponds to standard statements in a programming language, such as Java, C++, and C#. Alice is free to download and runs on Mac and Windows.
HACKETY HACK 
Taking programming for kids to the next level, Hackety Hack teaches the absolute basics of the Ruby programming language. Ruby is the foundation of many desktop and web applications such as Twitter, Shopify and Hulu and is a great starting point for command based programming. Students use an integrated text editor to begin building ruby apps and by the end will be comfortable with basic programming syntax. Hackety Hack is an open source application that runs on Windows, Mac, and Linux operating systems.
TREEHOUSE
Used by some of the biggest names in tech (Twitter, Square, Airbnb) Treehouse is one of the most trusted and well known platforms for learning to code. With interactive online tutorials for beginner and advanced coders, ranging from developing webpages to building and launching apps, Treehouse has one of the largest collections available. Kids can take a 7-day free trial to test the waters and get started on a lifetime journey of coding and creating.
KODABLE
Kodable provides a structured transition from symbols into written code focused on student outcomes. No programming experience needed. The curriculum includes lesson plans, explanations of key concepts, and screen free activities. Students will learn to use conditions, loops, functions, and how to write and think algorithmically. Before reaching middle school, they'll know the building blocks of every modern object-oriented programming language.
CODEACADEMY
Codecademy gets you coding as soon as you open the page and is a fun, social introduction to programming for kids. Aimed at higher level students, courses focus on generic programming skills and JavaScript development. Codecademy is different to other courses in it's very interactive approach to programming. Students work through an integrated terminal that gives feedback as they code. The social element is grown through earning badges and sharing progress with friends.
CODEA
iPad apps would have to be some of the hottest programs being developed right now. Codea helps make the iPad development process and programming for kids a lot easier. It is a great starting point for students interested in making apps and lets students program directly on the device. Students can create games, simulations and just about any visual idea they have. Like all apps, Codea is available from iTunes and is only $7.99.
CODAKID
A welcome break from drag and drop interfaces, CodaKid teaches kids 7 to 15 to write real code while creating custom Mods for Minecraft and Mobile Game Apps from the ground up. Created by a veteran Silicon Valley game designer, CodaKid provides online, self-paced courses such as Mod Creation: The Adventure Begins, a Minecraft Modding with Java course. CodaKid courses are fun, upbeat, and feature 35-45 hours of interactive projects and HD videos. The coolest part is that CodaKid's teaching staff provides online support via screenshare and they have a robust learning platform that awards points and prizes.
HOW TO MAKE CODING FUN
Part of President Obama's "Educate to Innovate" campaign, this FREE course was created for educators and parents who want to start their kids coding. This jam-packed 1 hour online course, focuses on the tools, techniques and ideas you can use to inspire fun and creativity in programming. Covering games, exercises, apps and more, the course steers away from code syntax or the conventions of any specific language and keeps the focus on making coding fun.
APP GAMES TO MAKE CODING FUN
Lightbot: Lightbot is a programming puzzle game that lets your kids create fun visual programs to move a little robot around his tiled world, cultivating a real understanding of procedures, loops, and conditionals.
Cargo-Bot: Created using Codea, Cargo-Bot is a fun game that requires kids to builds short programs to stack cargo. Creating recursive operations kids quickly learn some of the most foundational programming concepts.
Move The Turtle: A colourful and animated programming puzzle game, Move the Turtle requires players to write short blocks of visual code (similar to Scratch) to navigate this little dude around the screen.
NON-TECHNICAL WAYS TO LEARN CODING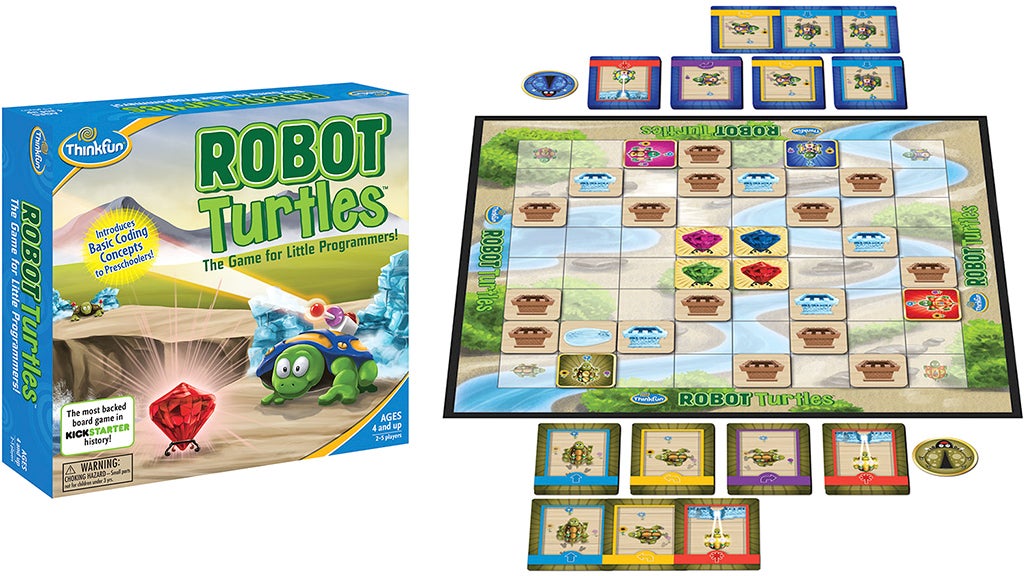 Robot Turtles: Robot Turtles teaches kids what it means to write code, debug and use functions through simple commands.
Code Monkey Island: Code Monkey Island is the most exciting educational board game in the world. It teaches kids how to use and master the fundamentals of computer science, and is played in thousands of homes, schools, libraries, and after school camps around the world.
BOOKS FOR KIDS ABOUT CODING
How to Code in 10 Easy Lessons: Learn How to Design and Code Your Very Own Computer Game by Sean McManus
Help Your Kids with Computer Coding by DK Publishing
Ada Lovelace, Poet of Science: The First Computer Programmer by Diane Stanley
Coding for Kids for Dummies by Camille McCue
~Some information was borrowed from this post on Fractus Learning by Nick Grantham on July 18, 2016.