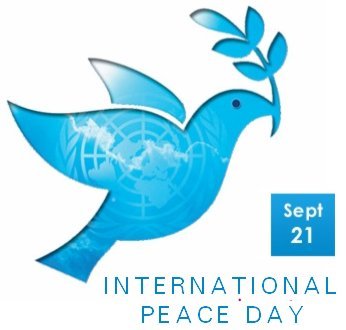 Dear Families,
Only two days left of testing. Then we'll all be rewarded at the end of the week with the September break!
This next week we'll observe Constitution Day on Monday and the International Day of Peace on Friday. We'll continue our study of soil, multiplication and division concepts, narrative writing and character study in reading.
For homework, look for a math packet on Monday (due on Friday). Please help your child keep up with the reading log and work on Education Galaxy. Also, please send in a small sample (small baggie) of soil by next Wednesday. 🙂
Most of the inclement weather forms have been returned. If you haven't sent your in yet, please return it Monday morning. We hope to not need them for Hurricane Florence!
Next Friday, September 21 is the International Day of Peace. Peace Day is observed around the world each year on September 21. Established in 1981 by a unanimous United Nations resolution, Peace Day provides a globally shared date for all humanity to commit to peace above all differences and to contribute to building a culture of peace. To celebrate this wonderful day, Kincaid staff and students are participating in several activities. Students and staff are encouraged to wear "Peace" themed clothes to school. Break out your tye-dyes, headbands, bellbottoms etc. to celebrate peace at Kincaid and in our larger world. Ms. Rausch will create "Pinwheels for Peace" with all students to display outside on the front lawn. These pinwheels will be put out on the afternoon of September 20th. You're invited to view the display on the evening of September 20th or on September 21st.
Thank you again for sharing your children with Mrs. Mann and I. They're truly a joy to teach!
Have a great weekend!
Mrs. Pennington