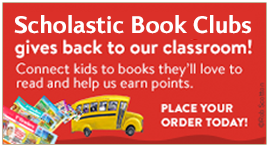 There will be a Scholastic order catalogue in the Tuesday Trackers this week. Any orders placed with our class will earn points that we can use toward building our class library!
Bonus: This month, you can pick a FREE Book (up to $5) when you place an online order of $25 or more!
As soon as your order is delivered to our classroom, I will send it home with your child.
Plus every order you place earns FREE Books for our class to share.
Thank you for your support and happy reading,
enter class code: MZRK3